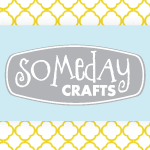 It's for realsies this time, I swear! To guarantee that, I'm linking to the
actual post
HERE
. Sorry about that, if any of you had issues... and I'm extra sorry about putting it out there to the Triberr world.
Anyways, I'm thrilled to announce that I'm sharing a brand new tutorial over at
Someday Crafts
while Michelle is on bloggy maternity leave (this is kind of ridiculous happy dance and stomach butterflies time I'm so giddy). I'm seriously crazy excited about this because this little jewelry technique/trend has been tons of fun for me and with a few supplies, it's turned into lots of awesome presents for people (including myself)!
And if you somehow hadn't quite seen
Someday Crafts
, I highly encourage you to check it out - it really is such an awesome blog and with all the guest posts over there recently, there have been some AMAZING ideas and tutorials (and I'm crazy-flattered to be in such great company)!