This
little beauty
comes to us from one of my Blog BFFs, Heidi, over at
Mom's Crafty Space
. She used my free printable and some inspiration from the yellow chevron frame that I made and posted about
here
. You can see her other awesome ideas by clicking on the button below: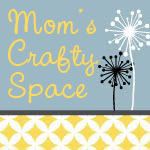 I absolutely love what Heidi did with this... she made it much bigger, put it all on canvas, used some Mod Podge, AND created some bunting for it. In addition to making it all much bigger and using her kick ass graphic design skills to make it all much bigger and fit just right!
I hope you enjoyed the first edition of your science experiments - projects inspired by or using something here from the blog. If you make something like that, please email me about it at craftingscientist@gmail.com. You can tell me if you don't want it featured or if I can use multiple pictures or whatever... and you guys should feel free to tell me what you'd like to see in posts like this!