I'm crazy excited to post Lish's tutorial today because it's such a cool project... when we were talking about this exchange, I wasn't sure what kind of project I was hoping she'd offer or I'd suggest, but I immediately announced that this was my favorite of her projects (obviously I played it real coy there...) because this is just one of those things that I would LOVE to have if I had a house or a place to put it... I think it makes her son's room look like a modern art museum! And I have to say that I owe Lish a HUGE thank you for her persistence in getting this post together because she was going to write up another project, but because she's not Martha Stewart (or one of her 700 staff members/magic elves), it didn't quite work as planned, but she still managed to get this together in about ten seconds! So, without further ado, here's Lish!
Hi everyone! Isn't Mel just the sweetest most craftiest person you've meet!? If you read her Crafty Interview yesturday you got to know a little about me and my blog
Imprintalish
, where I post mostly about life, photography, crafts and of course my kids! You can also find my shop over at
Etsy
and I host a fun photo link up called
Frivolous Fridays
. I would love for you to stop by and say hi sometime! Below, you will find some of my other creations...
Today I will be sharing with you my favorite project, which was for my son's 'big boy room'. So roll up your sleeves and join me for a super messy, super fun DIY!

What you'll need:
A medium sized beach ball- I found one at Walmart for $3.95
Base to sit the ball on- I used a small bowl
Vaseline
Ball of Yarn
Large bowl
2 bottles of white glue
1 cup of corn starch
1/2 cup of water
Lots of newspaper
Clear spray paint/adhesive
1. Put down lots of newspaper or a tarp-it gets very messy! Set the ball on top of a small bowl. I used this as a guideline for the opening where the light bulb would hang. Coat the ball in Vaseline so the yarn doesn't stick to the ball. 2. Mix together the glue, water and cornstarch in a large bowl. I originally made half the recipe and then had to make more halfway through. You may have to alter the recipe depending on the size of ball and how much yarn you want to use. I doubled the original recipie. Just make sure the mixture is on the thicker side.
3. Coat the yarn in the glue mixture. Only add a bit at a time or you will end up with huge knots! Of if you have someone nearby to help-ask them to hold the ball of yarn as you pull it through the mixture.
4. I started with wrapping yarn around the bottom of the ball/top of bowl and then went up and down from there. I just wrapped and moved the yarn around until it looked right. Because I ended up with so many knots, I actually had to cut the yarn and start again. I just made sure to secure all the ends by wrapping the end underneath other pieces of yarn.
5. Set the ball aside for 24 hours. Then prick the ball with pins. I poked about 4 or 5 holes and waited for it to deflate. Remove the ball through the opening at the bottom.
6.Hang the ball outside and spray with clear spray paint.

Again, step back and admire your magnificent handywork!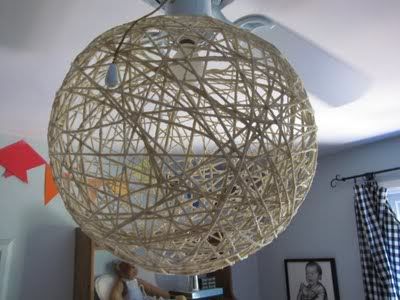 7.

To hang from ceiling fan, I removed the original light casing and tied 3 pieces of wire to the screws that held in the light. I attached the wires to the yarn light and

voila!

Again, step back and admire your magnificent handiwork!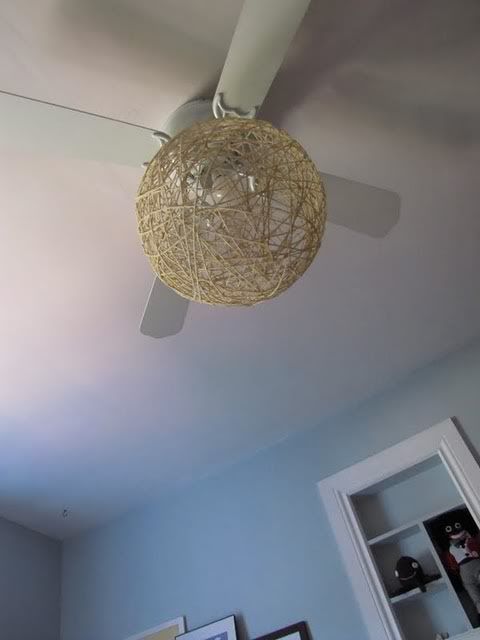 Hope you enjoyed my little project! A big thank you to Mel for having me guest post here today! I had so much fun!

Isn't this AH-MAZING!?! I just love it! Be sure to check out Lish's awesome blog,
Imprintalish
, for more gorgeous projects! She's super-sweet and one of the most organized bloggers I've ever had the pleasure of talking to and "working with"! Thanks so much for sharing this with us, Lish!